Living areas forms an important part of any home. One tries to decorate the living area in order to match one's taste and lifestyle. However, off late, indoor outdoor living is becoming a new trend! They are becoming a popular design choice for homeowners. Hence, for any type of home remodeling project or for home extensions creating a patio space is becoming a wide choice.
Homeowners are now opening their interiors to the outdoors by integrating glass windows and doors in the newly created living space. For instance, homeowners are now converting their patio spaces into living rooms, simply by making use of different patio door options.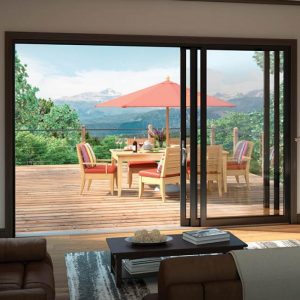 What Can One Do?
Looking forward to transform your exiting patio? You can simply expand the existing patio door a little wider. Or, one can simply replace the wall with a vast glass door opening so that one can enjoy the spectacular view of outdoors.
In this blog, you will come across some patio door solutions, which you can introduce for your home.
Door Ideas for Your Home
When you plan to use a door for your indoor-outdoor living area, such as patio area, you make sure of the fact that the doors offer a smooth transition. However, take a look into some amazing ideas for windows and doors for your patio.
Swinging French Doors
A Swinging patio doors can heighten the look of a home. A home can look stylish. The glass panes can allow lot of light to enter the space. One can choose between swing-in or sing-out operating style doors. However, before considering which style is right for a home one should consider the space and hinges.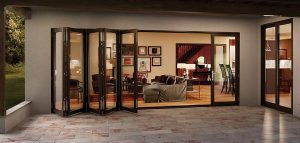 Bi-Fold Moving Glass Walls
Many stores dealing with windows and doors are now able to offer customers with moving glass wall systems. It can operate smoothly and effortlessly with a single push. The doors are made up of sealed, stainless steel, and ball bearing rollers.
Sliding Patio Doors
If homeowners need to work with the pre-existing door opening or limited space, sliding doors can be a great option. It can come with either right-hand or left-hand operation. The doors slide horizontally and can be customized with decorative handles. Also, one can choose grid patterns, glass option and colors. Patio doors with vinyl frames are highly durable.
Pocket Glass Walls
Go for this kind of door ideas if you want the panels of your patio door to disappear from view. The panels can slide open and can be wraped into the wall pocket. Thereby, creates an open-air retreat. Also, when the windows and doors remains closed, it offers a scenic view. Going for thermally broken aluminum panels with weather–stripped structural interlock is important.
Stacking Glass Walls
When it is opened, each pane gets stacked on top of each other. It can also slide depending on the size of the opening. If you fully open it, living room can extend into the patio space. The space gets filled with fresh air and natural light.
Once you have chosen your preferred style windows and doors for your patio, you can decorate the space with beautiful décor. Make sure to match the color palette of your interior and exterior space the same.